L'Institut Agro, the French Institute for higher education & research in Food, Agriculture & the Environment
L'Institut Agro is a higher education and research institution in the fields of food, agriculture, environment, and landscape.
It conducts its activities in close collaboration with research organizations, universities, other major schools, and stakeholders from the socio-economic sphere (both public and private), in France and worldwide.
It brings together 3 French schools: L'Institut Agro Dijon, L'Institut Agro Montpellier, and L'Institut Agro Rennes-Angers.
It covers all topics and sectors related to plants and animals, including vine and wine, horticulture, fisheries, and landscaping.
It offers a wide range of initial and continuous training programs, including engineering courses, professional licenses, master's degrees, and doctorates.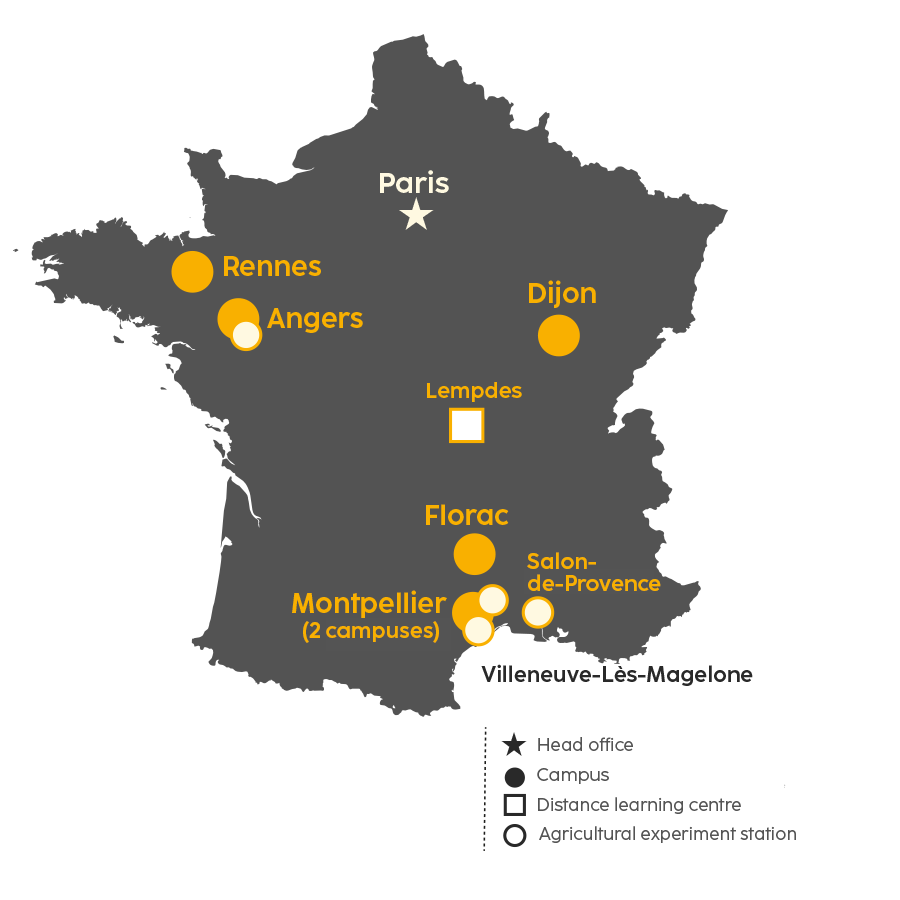 It has 4,900 students, including 2,800 engineers and 450 doctoral students, 1,380 staff members including 300 teaching and research staff, 60,000 alumni, 6 campuses, 3 agricultural experimental sites, 36 research units, a publishing house, a foundation, 16 chairs, and a network of business incubators.
L'Institut Agro also provides support to 800 institutions in agricultural technical education.
The institution is a member of the Agreenium network and the CGE-CDEFI.
It carries out its activities internationally with over 187 partnerships.
L'Institut Agro is a member of the first European university network, Euroleague for Life Sciences (ELLS).
A unique "grande école" to support agroecological, food and environmental transitions & transformations
In a context of global climate, ecological and food urgency - coumponded by health crises - higher education is a key to achieve agroecological, food, digital, climate, energy, economic, and social transitions and transformations.
Training of engineers, executives, researchers, experts and technicians, while delivering top-level research, is a powerful lever for driving change, raising awareness, engaging and supporting stakeholders.
L'Institut Agro was established by the French government as a leading new "grande école" to scale-up France's ability to respond major national and international challenges in the areas of food, agriculture and environmental issues.
We share a core of values that bring us together: integrity in the production and dissemination of knowledge, in our actions and partnerships, diversity and inclusion, social, cultural, and international open-mindedness, a fundamental commitment to sustainable development and an active engagement in European and international initiatives for ecological and climate transition.
Our ambition is to empower new generations of responsible, committed, creative, and entrepreneurial men and women, and to provide them with the adequate skills and tools to find solutions, design and implement new models to better feed the world while protecting the environment.